Remember the Bread box I got in Saturday's Garage Sales?
Well my friend from My Rustic Cottage Life blog was looking it up on Etsy for me to see if it was worth anything. (We used to live in the same town and now she post on Etsy and I post on Ebay. We are both doing quite well at it so it is fun to compare and see how different the sites are!)
She found this:
It is the same box.
I decided to keep my $1 find and to repaint it for my kitchen. It will be like an extension drawer for my tiny kitchen space!
I used an idea from Cathe Holden's amazing site to think about repainting it. Here is what she did with her larger breadbox:
Her box used to look a lot like mine. Here is what she started with:
I haven't decided what I'm going to write on mine. I might use her same decal. But I started by taking the box apart. I found the hinges to be rather awesome!
They are just a piece of metal that is bent in both directions. Much like the idea of a paper fastener.
So they were easy enough to take off and easy enough to paint!
I started with painting the inside, bottom and lid of the box black. I like the white but don't have anything white in my kitchen so didn't want to go with all white.
I had a can of Rust-oleum on hand which was perfect for the rusty box which I first sanded with 220 sandpaper.
Then I had to force myself to stop and come inside to let it dry! I get a little carried away with spray paint and keep 'touching up" until I get drip spots if I don't watch myself!
When I went to paint the white paint my Kilz can that was over half full didn't work…grrr. So I used a cheap spray paint and learned I shouldn't do that again! It is a kind that is suppose to stop rust so I assume it works for metal. But it didn't stick to the metal very well.
It ran in spots and was basically terrible. I guess there is something to do with quality! I ended up sanding and using a lot of spray it it worked eventually.
The white over sprayed and I had to touch up the black. There wasn't really any way to tape any of it off. Maybe I should have done white on the inside and saved myself the trouble! Always learning!
Final product:
I finally got it done. I might redo it sometime in the future with better paint but at least I have it where it is useable and I can see what it will hold!
Started out as this:
Fits perfectly!!
Check out the party's I linked to: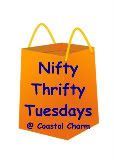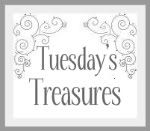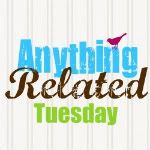 Thrift Share Monday