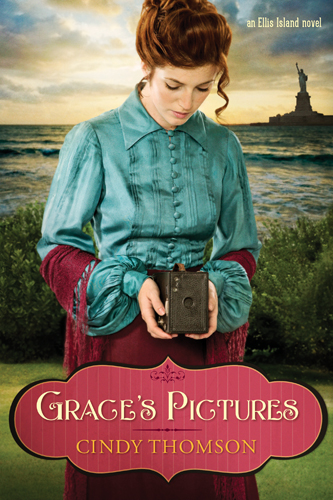 I just finished reading Grace's Pictures by Cindy Thomson. It is an excellent book with facts about history, photography, immigrants and living condition of the very early 1900. Thomson takes you back to a time when there weren't smart phones or digital images and shows a girl's passion for the art of capturing images. Her passion, however seems bent on getting her in trouble when she continues to snap photos at in opportune moments for the local crime gang.
With the help of the local police, men she had to learn to trust considering it was the police who took her from her mother when she was young, they seek to find the leader of the gang and bring him to justice, saving many immigrants like her from faring evil fates at the docks.
As she fights the fears that her father pounded into her head as a small child she turns to the Lord for her support and lets go of her self doubt.
This book is a great read. It has depth and unanswered questions that keep you hanging until the end. Thomson writes with great knowledge about the century and the countries portrayed in the book.
Author Cindy Thomson
Link to Chapter one: https://docs.google.com/viewer?url=http://files.tyndale.com/thpdata/FirstChapters/978-1-4143-6843-6.pdf
Questions and answers about the author: http://mediacenter.tyndale.com/downloads/press_kits/gracepicauthorq&a.pdf
Author blog: http://cindythomson.blogspot.com/